March 25, 2016 - Little Rock, Arkansas, USA

We promised you a game.

When we started we figured we would have this thing down in a couple of weeks. I mean, how hard could it be? It's such a simple mechanic, and we already have a working prototype that people genuinely enjoy. After realizing that the projects we are seriously passionate about, and really want to make into really awesome games, Huey the Hamster and The Lost Office, would take entirely too long to bring to fruition, and would probably not make for a suitable first game for us.

We promised you Bouncy Adventures.

It was the very first concept we came up with, because a bouncing ball was a very easy mechanic to set up, and to be truthful, it was really more just the two of us figuring out how all this stuff worked. By the way, we're still trying to figure it out, we've just gotten a lot better at it then when we started. Bouncy Adventures has it's merits: the prototype was showed some very promising designs. My personal favorite out of that was the "Night Cannons" designs.
You can play this prototype if you like. It's available FOR FREE for PC and Android on our IndieDB page. We tried to force it into some type of world tour of ancient and modern sites via pinball. It felt forced, and eventually, forced us to quit the project. It's not a bad game idea, we just lost interest. So, no Bouncy Adventures for you.

Then we promised you:
And we told ourselves we should be finished by the end of the year when we started in Nov. 2015. By January we thought we had it all figured out and that we could put this thing together in no time. "We should be done sometime in January," we told ourselves.
We were wrong.
Yeah, the initial work didn't take too long. But, we wanted the game to have some real game play, and not just another simple color match game. We also wanted it to have some personality, as we continued to develop new tactics, and advancing the difficulty over time without just speeding things up, we also began to envision characters and story line to go along with the game play, and give some depth to what you're actually doing when you play the game.
YOU ARE DEFENDING THE VERY EXISTENCE OF LIFE OF EARTH!
As you will soon see for yourselves, it's going to be worth delaying release on this until we're done with it. When March 1, our officially published release date on SlideDB, starting creeping around the corner, neither of us gave it much thought. But that day, we set our sights on next Friday. And we're staring down the barrel the whole time.
We're aiming for a complete game, with all the levels in place, as well as all the options, We're aiming to have all the characters in place, and the story line complete. We're aiming to have all the bugs worked out, but we're not aiming for production release just yet.
Next week's release is supposed to be our full length Beta Test. We have an offer to make you: Beta Test our full game FOR FREE and when we go production release, we'll give you the AD FREE premium version at no cost. How can you turn that down? I must admit, there's a catch, we just need feedback from you.
You also get a chance to influence any changes we make as a result. Then the game becomes a part of you, and you it. We would also like to publicly thank our testers in game.
So, we promised you a game. And (insert your choice of expletive here) you're going to get that game.
Things are looking good, and we're super excited.
BTW, I also promised you some character introductions, here's one: Dr. Allen Astronamor, penned by Matt Barnette and inked by SZ Joe. Here he is looking a little bit intrigued about something: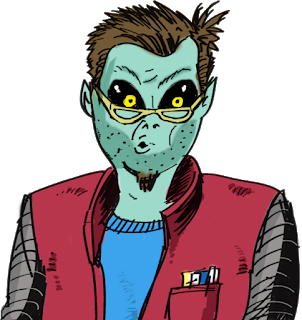 Stay Frosty
~Sub-Zero Chuck