Twin Moon Galaxy takes place in the year 2178; sixty years after mankind developed the technology for interstellar travel. Following this discovery, missions were planned to explore Alpha Centauri, the nearest solar system. Over the next several decades, a mining station was built on Tehum, the moon of a planet in Alpha Centauri which is habitable.
Many characters will play an important role in Twin Moon Galaxy, but there are five that stand out. A young woman who suddenly wakes up in a space lab, a captain who just got appointed to command a spaceship that will travel to Tehum, a retired medical officer who now lives in the space lab, a former soldier who now works as engineer and the commander of all operations on Tehum. These five people will shape the story of Twin Moon Galaxy.
Maia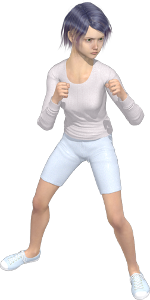 Maia is a 19 year old woman from Earth. At the age of 17, she enrolled at the local military college in herhometown just outside Southampton.
Due to her near excellent performance, she was given a position at the main branch in London. After several weeks in London, Maia was on her way to a meeting when another vehicle crashed into hers. Suddenly, as if the crash had happened only moments ago, Maia awakens in a strange laboratory, but there is something different about her. She has gained strange powers which seem out of this world. What happened since the crash? And why does Maia now have strange abilities?
Masaru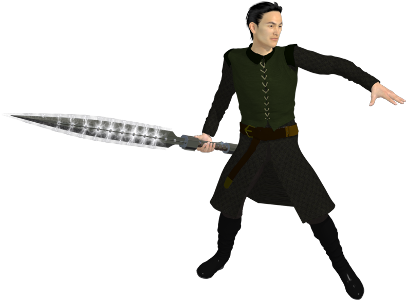 Masaru Himura always dreamed of being the captain of a starship. Lucky for him, he was born in a veryinfluential family with connections to the GCA, the branch of The Union government that takes care of space travel and research. At the age of 25, Masaru joined the THK corporation and quickly climbed the ranks. After 15 years of service on various THK starships and the THK space station, Masaru has finally gotten his wish. In a few months, he will be starting his new post as the captain of the THK 5-8, the newest starship that will travel between Earth and Alpha Centauri.
Masaru is also a great fighter. Since he was young, he has learned to fight with an electroblade, a type of weapon developed by the THK corporation. Masaru often trains with his friend Jack Zervus in the training center aboard the space station.
As the trip to Alpha Centauri approaches, Masaru is coming to realize that it might not be all that he had hoped for. He has already learned a few secrets about the operations of the GCA in space, and he fears that they can only lead to disastrous outcomes. Unfortunately, Masaru is not in a position to question the decisions of the GCA, so he can only proceed with his mission.
Jack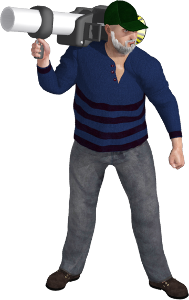 Jack Zervus is a retired medical officer who worked for the GCA most of his life. While studying medicine at University, Jack was recruited by the research branch of the GCA. Over the years, he was involved in many secret experiments. Due to the impressive results of his research, Jack was able to climb the ranks within the GCA. By the end of his career, Jack's status was equivalent to a high ranking general.
When Jack was 50 years old, a rebellion sparked a civil war in the southern parts of The Union. Jack was dispatched to study the effects of new weapons developed by the GCA. Jack witnessed the horrors that his research had led to. Rebel soldiers were disintegrated by weapons developed from research conducted by Jack and his team. During the civil war, Jack learned to fight with several weapons such as rocket launchers. Near the end of the conflict, Jack witnessed a battalion of GCA soldiers disintegrate hundreds of rebels. Angered by what he saw, Jack turned against the GCA soldiers and attacked them with his rocket launcher. Jack was arrested for treason. Upon returning to the capital of The Union, the emperor learned about what had happened in the conflict. Jack was pardoned by the emperor, but he was forced to retire.
Jack's friend, Cyrus Relk allowed him to relocate to the Space Lab orbiting Earth. Since then, Jack has been living in the Space Lab. He spends most of his time fighting in the training center. Jack is about to play an important part in a new conflict, but will the ghosts of his past continue to haunt him?
Sara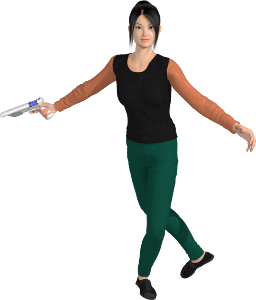 Sara is a 25 year old engineer working with the THK corporation. She is currently living on the THK space station orbiting Earth. Recently, her uncle Masaru was able to get her a position on the THK 5-8 which will soon leave on a mission to Alpha Centauri.
After her parents died in a car accident, Sara had to become strong and independent. Her uncle Masaru took care of her, but he was often gone on missions. When Sara was 20, she joined the military and studied engineering at the same time. She wasn't the best fighter, but her skills in engineering helped her gain recognition within the GCA. Sara never fought in a conflict. After a few years in the military, Sara left the GCA and joined the THK corporation. Masaru disagreed with Sara's wish to join the crew of the THK 5-8, but after she pleaded with him over and over again, Masaru agreed to bring her in. However, fearing for Sara's safety, Masaru ensured her cabin was as close to an escape pod as possible.
Although Masaru hoped to keep Sara away from danger, it may be too late to avoid it. However, Sara's military training will prove useful, and she will play a vital role in the conflict ahead.
Carol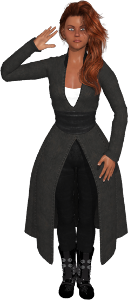 In Alpha Centauri, there is one person in charge of all operations. That person is Carol May. As a general in the GCA, Carol is one of the highest ranking officers in The Union. Her rank is just below the Emperor himself. After being orphaned at a young age, Carol was adopted by a former general of the GCA. From that day on, she was trained to become a general herself. Her entire life revolved around preparing her to fulfill that role. However, Carol wanted to stay away from all of the conflicts on Earth, so when the opportunity to rule Alpha Centauri was presented, she accepted without hesitation. For several years now, Carol has lived on Tehum and she has never returned home. The people who live and work on Tehum all respect Carol. Although she is the ruler of the entire system, she doesn't give many orders. Those who live in the system long enough help make decisions with her.
Carol is our final character for the character insight series. We hope you enjoyed finding out more about the characters that will play an important part in Twin Moon Galaxy. Of course, other characters will also play an important role in the game, but these five will be some of the most influential. In the coming weeks, we will focus blog posts on progression updates.
Additional Details
These five characters will be playable throughout the story of Twin Moon Galaxy. At times, you will control only one character, and at other times you will be able to have up to three characters in your party. Each character will have a unique background and story, and will play differently in combat. For example, Masaru fights with an electric sword and Sara fights mostly using firearms. By using the different fighting styles of each character, the player will have to find the best strategy to defeat enemies.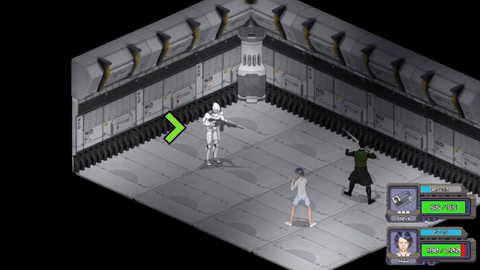 Although we've only covered these five characters, other characters will also play an important role in the story of Twin Moon Galaxy. Furthermore, there may be other characters that will be playable in the game.